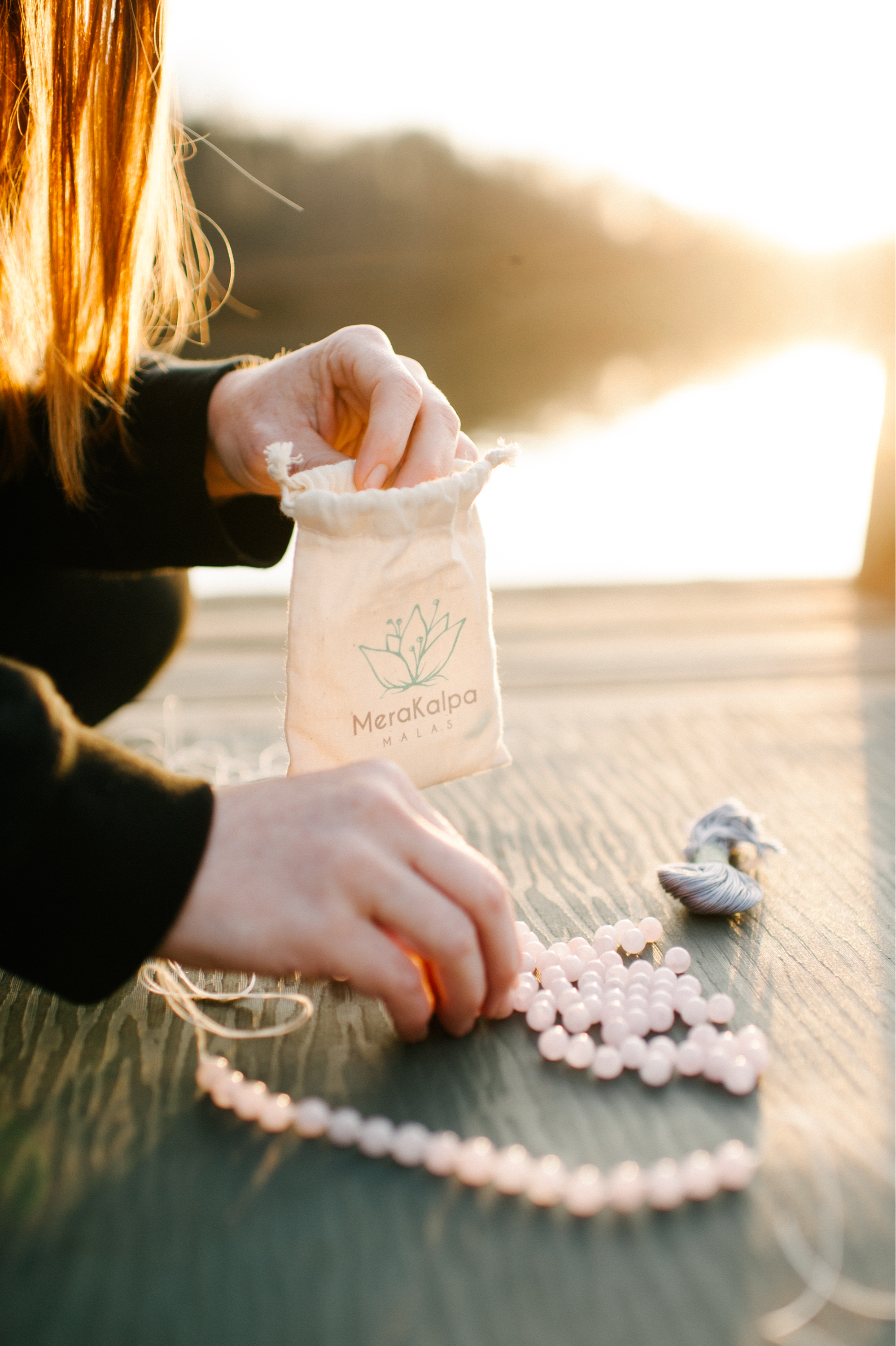 Malas are more than just beautiful beaded necklaces, They can be tools in helping you set and manifest your intentions!
Whether you are a devout yogi or not, you have probably seen these beaded beauties dangling in yoga studios and trendy boutiques. Malas can carry so much meaning though, and that's why we believe that making your own mala is such a sacred practice.
The practice of making your own Mala Necklace is a form of meditation in itself and it creates a beautiful and powerful connection to your most heartfelt desires and intentions.

Learn How to Make a Mala in 4 easy steps with Video!
---
SUPPLIES:

17' nylon or silk cord (nylon is more durable than silk!)
108 beads of your choice (you may choose certain gemstones based on your intentions)
1 Guru Bead (choose something special! like a gemstone! Just ensure it has2mmor larger hole)
Step 1. SETTING UP YOUR CORD:
Thread your Needle with cord, double over the cord, and tie your first overhand knot with both ends at 7" from the end.

Step 2. KNOTTING YOUR BEADS:
String 1 bead and tie an overhand knot behind it. Carefully pull the 2 threads apart and watch as it makes your knot go perfectly tight, next to the bead! You may want to use small pliers or tweezers to help you get the knot nice and tight to the bead. Repeat for a total of 108 beads.
Our Video Tutorials make this much easier to follow! Click Here to Watch!

Step 3. ADD YOUR GURU BEAD:
Bring the ends of your strand of knotted beads together and tie an overhand knot. Thread your Guru Bead onto all 4 cords. It is easiest to thread the ends that do not have the needle through the guru bead first, then bring the needle through! Next you make and add your tassel!

Step 4. MAKE YOUR TASSEL:
This is the most important part to making a traditional mala, but it can get tricky! This really is too hard to explain in text!
So please watch the Video Tutorial for this step!  
First, Cut 2' of your silk or other thread you are using to make your tassel, you will use this later to wrap your tassel. Wrap your tassel thread around your hand or other object like a square piece of cardboard until it is the thickness you desire. Cut the bottom of all the thread. Remove the thread carefully and set it below the guru bead. Tie the 4 cords around the middle of your tassel thread and make 1 knot. Fold over the tassel threads and wrap your tassel with 1 long piece (about 2') of your tassel thread. Trim your tassel.
Voila! You have made your own custom mala!
Nice Job!
---
Check Out Our Most Popular Mala Kits!
I absolutely loved putting this mala together with the help of Amanda's easy to follow videos! My mom ordered it for me and I'm planning to carry it around my bouquet on my wedding day. It arrived quickly and smelled like lavendar which I loved! I would highly recommend her kits and plan on ordering more in the future!
— Jamie G.
---
Subscribe to our Newsletter and get Free Shipping On your first order PLUS exclusive VIP discounts!
Welcome! Glad You Joined Us! Here is Your FREE Shipping Coupon: BLOGFREESHIP
This field is required
This field is required
---